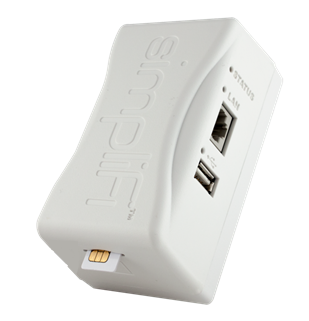 Take Control of your Connectivity: Ultra Fast, Ultra Reliable and Ultra Portable
"We're not a hotspot; We are a complete network in a box"
Simplifi
The most portable and easiest to install Wi-Fi network available. Simplifi technology opens doors to experiences that were not possible without it across the globe.
Simplifi provides up to an 800-foot line of site for Wi-Fi transmission, IP passthrough and port forwarding; plus the ability to remotely manage your network from anywhere. Each unit also serves as a wired line router, equipped with Bluetooth capability, and is engineered to act as a full wireless badge.
Simplifi is capable enough for the most demanding professional applications but simple enough for anybody to use right in their own home.
Plug-n-Play
Sophisticated technology doesn't have to be complicated; it can be as simple as Simplifi. With just a SIM card and a power outlet, you can instantly be connected to the world around you. It automatically creates a wireless network for up to 32 simultaneous users and devices.
Ongoing Development
In today's world, you can't afford to be disconnected. With Simplifi, you won't have to. Our team is constantly updating our platform to give our customers the best wireless connectivity possible.